Welcome to the official "Rits-UCD 2015" Blog!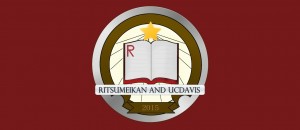 This website is being updated by 37 students who will be taking part in UC Davis English for Science and Technology. We will be visiting California from 11/Feb to 15/Mar from Ritsumeikan University, Japan.
To know more about our program, click About for more detail!
This blog is here to show you what we are doing, how we are doing, and maybe make you feel like attending a program like this!
★Have any comments? Click ContactUs! We appreciate your feedback!