2014/11/13
On the day, we held the first meeting. We talked about progress in this program and the plan.
Nakata project leader send a mail to Dr. Morand. This was the first contact. According to the reply to the mail, sign-ups for his class begins in early January 2015. We are looking forward to communicating with his students. So, we will suggest many ideas which we will try in UCD to communicate with them smoothly. Once again, we send a mail to Dr. Morand to hear his class policy.
About communicating with University of Illinois, we knew so surprising news. The students of the class which we communicate with apply economics. So, the plan about new ideas of business was suggested.
We are excited about trying to make a success of our project.
Thank you.
From Hiroki Fujii.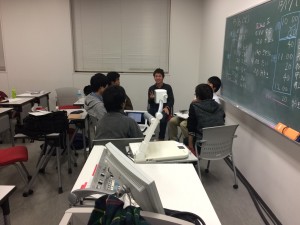 PS: I was posing but i discussed hard 🙂