11/20/2014
I'm so sorry to be late for carrying this report.
On November 20, we held second meeting.We talked about the project of Illinois College a lot.
We may not meet the students of  Illinois College because it is so far from UCD to Illinois College. So we want to communicate with them through the Skype some times. We will discuss some subjects with them. We suggested Necessaries 50 years later, Difference of the problem of insurance between in Japan and in USA and Difference of using the masks between in Japan and in USA. Through online video, we define a subject.
About Class of Dr. Morand , we want to insert introduction movie about our members and Ritsumeikan University into Facebook. This movie will let us smoothly communicate with a class of Dr. Morland.
We are looking forward to communicating with students of Illinois College and UCD. So we prepare well enough.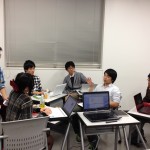 from Hiroki Fujii