We held third meeting on November 26th.
In second meeting, we decided to take movie of our introduction. So, we carried it out! Please check "Ritsumeikan-UC Davis Friendship Group" in Facebook! We keep on carrying movies in Facebook.
We talked a lot about a project of University of Illinois College. Each of us suggested interesting subjects.
Subjects
・Mask ・Necessities after fifty years ・ Anime ・ Comedy ・ SNS ・ The problem of energy ・ Advertisement
In Skype session, each of proposers will take short presentation about introduction of these subjects. Until taking Skype session, we prepare to explain introduction of them to Illinois College students.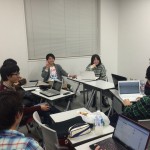 by Hiroki Fujii