On 15 February, There was Get-To-Know Party. We invited each host family the party and everyone enjoyed Japanese culture or eating food. There are some groups to introduce Japanese culture, Dancing, Calligraphy, Traditional tools, Making up, Fukuwarai and Origami. In the party, we could eat Miso-sup.
In Japanese culture group, we introduced Darumaotoshi and a traditional spinning top.
Many children could enjoy it.
In Dancing group, five pretty women performed a dance to a music of Momoiro Kuroba Z which is a famous Japanese idle group. They gave many people a good time.
In calligraphy group which is my group, we took two things. First, we would like participants to try to do calligraphy. Second, we made a big work which was draw a bear and a mountain. However, before starting the party, only the frames were drawn. I let many people write their name or message in bear or mountain. By this, we could make the big work. The bear shows the image of UC Davis and the mountain show the image of Japan. I was glad to complete it.
I am sorry because I was so concentrated on my group, I don't know about other group on detail. However I'm sure that each group could amuse the guests. The party was so wonderful.
At the end of the party, a surprise birthday party for Mizuki was taken. Suddenly, a music for birthday was played, and we gave her a message card for her. She seemed to be surprised at this.
On next Thursday, there are an opportunity to participate in meeting of JASS. At this meeting, we can talk to a member of JLCC for the first time. I'm so looking forward to see them.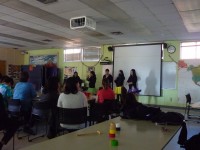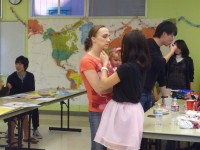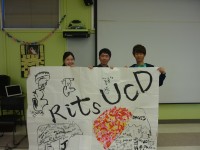 Thank you for reading.
Yuka